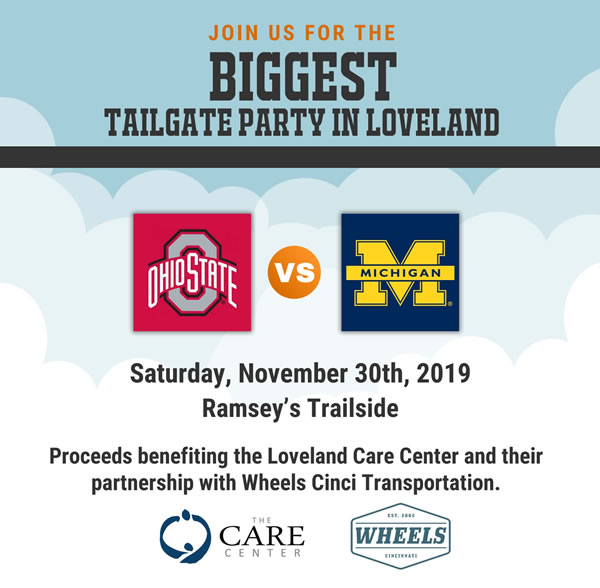 The Loveland Legacy Foundation is throwing the 'Biggest Tailgate Party in Loveland' for the Ohio State/Michigan game on Saturday November 30th, 2019! Join us at Ramsey's Trailside in downtown Loveland to 'Tailgate for GOOD'! Proceeds from our Squares game will benefit The Loveland Care Center and their partnership with Wheels Cinci Transportation organization to secure permanent transportation for Loveland residents.
10 am – Special Bloody Mary Bar and breakfast items available for purchase
Rooftop Bar open (weather dependent)
Buy a Square! Tailgate for GOOD!
Noon – Kickoff for 'The Game'
We will have a traditional "Squares Game" where you can purchase a square for a chance to win cash! Payouts will occur after every quarter during the game with the grand prize going to the final score square. Each board will have a payout determined by the cost of the squares; there will be a $100 square board ($5000 payout) and a $20 square board ($1000 payout). 50% of the money raised will go to the square payouts and the other 50% will go to a great charitable cause.
SUBSCRIBE TO OUR EMAIL LIST