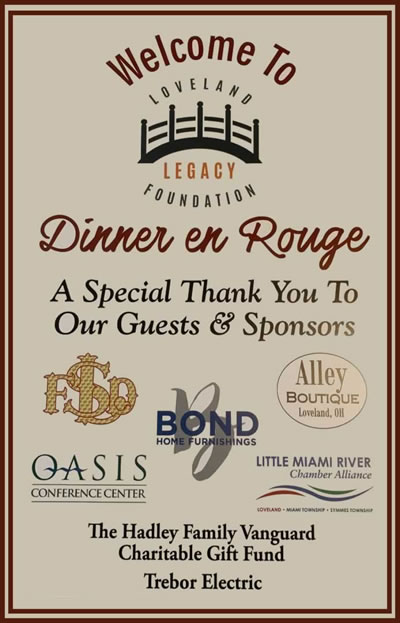 A big THANK YOU to everyone who supported our first annual Dinner en Rouge event in downtown Loveland on Saturday evening! A great group of people having a great time supporting a great cause made for a very memorable evening! And the red attire was everything from FUN to FABULOUS, generating much interest in our community and raising awareness for the Loveland Legacy Foundation's efforts.
THANK YOU to our sponsors:  Loveland/Symmes Community Fire Fund, Bond Home Furnishings, Trebor Electric, Little Miami River Chamber Alliance, Alley Boutique, Oasis Conference Center, Nothing Bundt Cakes, and the Hadley Family Vanguard Charitable Gift Fund. Other supporters with donations in kind were Daisy Jane, Tano Catering & Kitchen, and the Max Family.
Proceeds from the event benefit the Loveland Legacy Foundation – an organization dedicated to the betterment of the Loveland, OH area. We appreciate your support and look forward to another amazing evening in 2020!!
Loveland Legacy Foundation -Dinner En' Rouge Committee
Janel Thompson, Laura Padgett, CeeCee Collins, Lisa Hensler, & Gina Wlliams
SUBSCRIBE TO OUR EMAIL LIST