COMMUNITY BUILDING SUPPORT
Heroes? Honor? Commitment?
Can you spare an hour to hear the tragic story of a military training mission gone horribly wrong here in our backyard 40 years ago?
Please join the Milford High School Class of 1979 as they host a remembrance for 4 Army National Guardsmen who lost their lives in our community. There will a ceremony to dedicate a memorial for Capt. James E. Capps, Capt. Paul F. Edgar Jr, S/Sgt Wayman Nixon Jr. and S/Sgt Alan K. Piatt, their families and their selfless commitment to our communities. This ceremony will take place on September 29. 2019 at 12:00 PM in Paxton Ramsey Park on the 40th anniversary of this tragedy.
The Loveland Legacy Foundation is a 501(c) (3) non-profit organization with its purpose is to improve the community of Loveland, OH. The organization was created out of the generosity of members of the Loveland community and businesses that responded to the fire that devastated the downtown area. The affected business owners who received this financial support, in turn, agreed to start this foundation to "pay it forward" and provide a resource that leaves a lasting legacy in the community. The organization will represent a wide variety of ideas, interests, initiatives and needs identified by those engaged who have united in a common purpose – the betterment of Loveland, OH, now and in the future.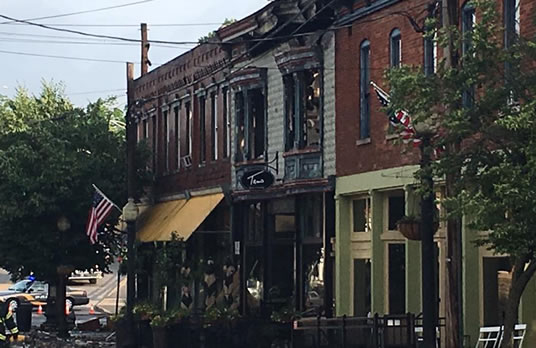 SUBSCRIBE TO OUR EMAIL LIST